Rudi Bratuz - Consigliere
Father also brought to Canada, as a precious possession, the three medals he received for his service as a City and Provincial Counselor. Three years after the war, in 1948, he was elected as a representative of the Slovene community of Gorizia. His experiences of oppression, imprisonment, and of terrible events, gave him a new courage to stand up to those who opposed him, and to be a very effective member of the City Council.
It is with immense regret that I realized I never heard him in action. This part of his life was what he was most proud of, as it redeemed so many years of suffering before, during, and immediately after, WWII.
All three medals come from the same Florentine jeweler, Picchiani & Barlacchi
Bronze medal

COMUNIS GORICIAE

GORIZIA
CONSIGLIO COMUNALE
1948 – 1952
Silver medal

COMUNIS GORICIAE

GORIZIA
AL
CONSIGLIERE
RODOLFO BRATUZ
1948 – 1955
Gold medal

COMUNIS GORICIAE

GORIZIA
AL
CONSIGLIERE
RODOLFO BRATUZ
1948 – 1961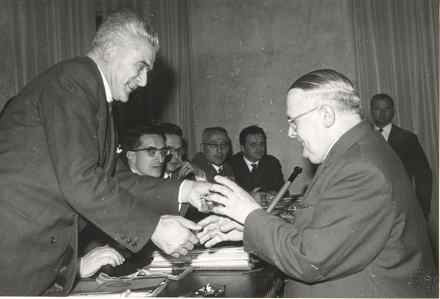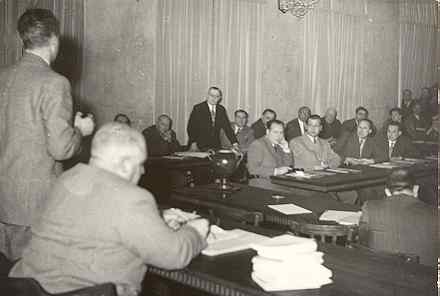 Among the papers Father brought to Canada I retrieved this draft of his first address to the Council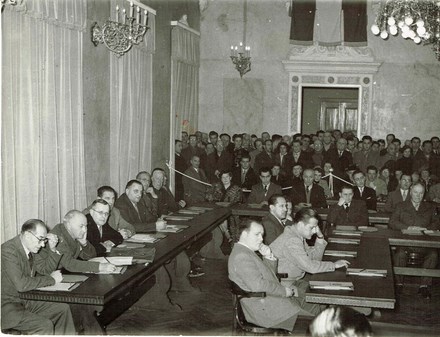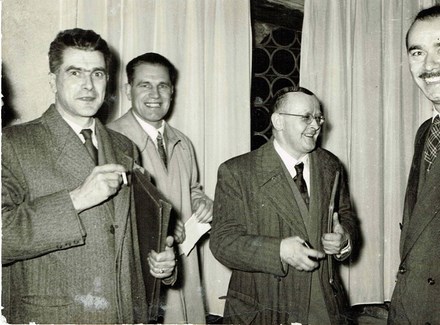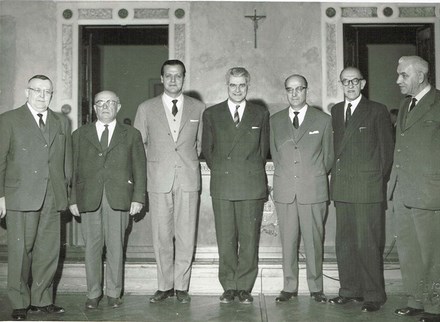 From Left to Right: "Rudi Bratu¾, Cav. Crocetti, Avv. Devetag, the Mayor Dr. Bernardis, Dr. Poterzio, Dr. Batti, Dr. Verbi.
Only Dr. Grusovin is missing, who had died just during those days."
[Cav. stands for the honorific title 'cavaliere;' Avv. (Avvocato) stands for an attorney's title]