Bartókiana - Bartók Centenary Award

A L'OCCASION DU CENTIÈME ANNIVERSAIRE
DE LA NAISSANCE DE BÉLA BARTÓK
LES ORGANES CULTURELS GOUVERNEMENTAUX
DE LA RÉPUBLIQUE POPULAIRE HONGROISE
VOUS DÉCERNENT LA MÉDAILLE COMMÉMORATIVE
BÉLA BARTÓK
VOTRE ACTIVITÉ CRÉATRICE
A GRANDEMENT CONTIBUÉ À LA CONNAISSANCE
DE L'OEUVRE DE BÉLA BARTÓK.
COMITÉ COMMÉ MORATIF BÉLA BARTÔK

Bartók Centenary Award Ceremony [6 pictures, re-distribute them]. Faculty of Music, University of Western Ontario.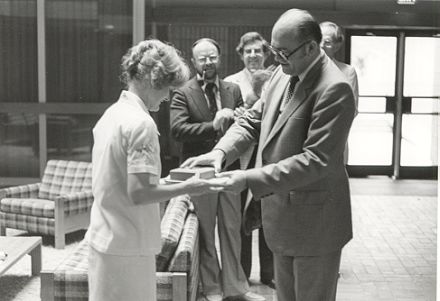 September 7 1981. Hungarian ambassador, Gyula Budai, and the embassy's first secretary, Imre Ugrai, presented Dr. Bratuz with an award in honor of her work on behalf of Hungarian composer Béla Bartók.
In the background: Dean of Music Jack Behrens, Chairman Robert Creech and Prof. Ralph Aldrich.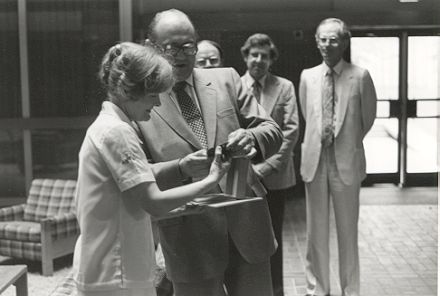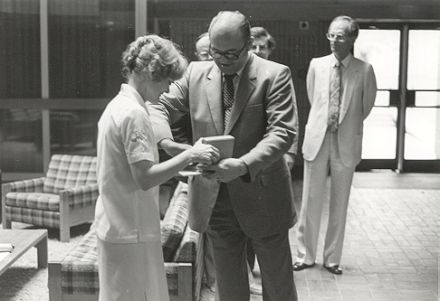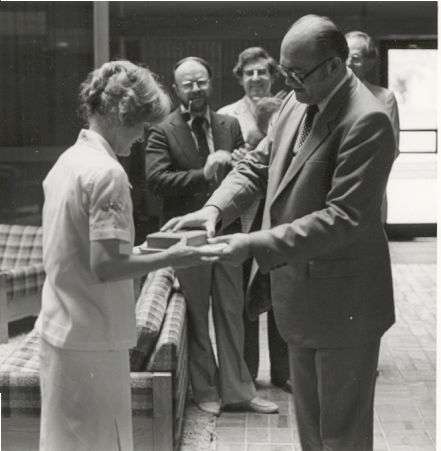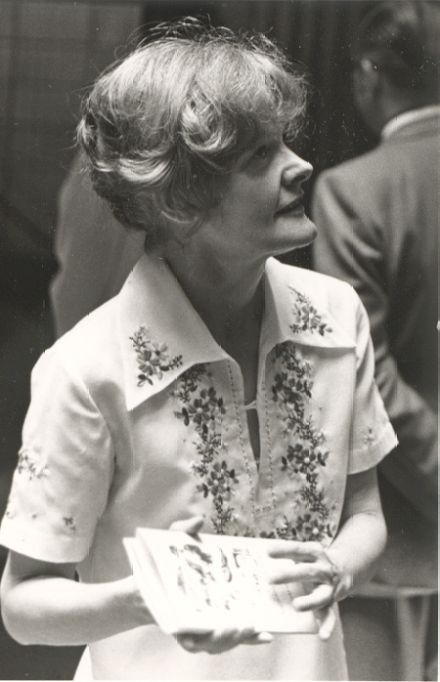 Bartók Centenary Award 1981 - In my piano studio.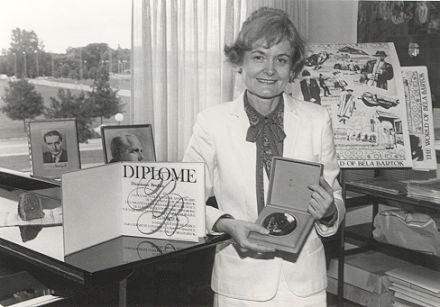 From International Musician, December 1981
University of Western Ontario Professor of Music, Damjana Bratuz, has been awarded one of only three plaques presented to Canadians in honor of the Béla Bartók centennial being celebrated this year. In a ceremony September 7 at theUuniversity Music Faculty in London, Hungarian ambassador, Gyula Budai, and the embassy's first secretary, Imre Ugrai, presented Bratuz with a scroll and the award in honor of her work on behalf of the famous Hungarian composer.
Bratuz is touring North America performing and lecturing on the music of Bartók. She has appeared at majors universities in Canada and the United States with her presentations.
The other Canadians to receive the honor were Zoltan Szekely of Banff, British Columbia, for whom the Bartók Violin Concerto was written, and Calgary Symphony conductor, Arpad Joo, who recorded the Bartók orchestral works.
POSTER FOTO 'THE WORLD OF BÉLA BARTÓK' (Illustrated Lecture)
Centenary Tour, 1981-1982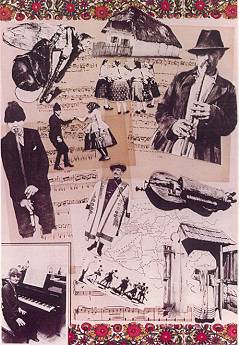 [From "Bartk Revisited" - An Illustrated Lecture, Faculty of Music, The University of Western Ontario, London, Canada, October 30, 1992.]
When in the fall of 1981 the Ambassador of Hungary came to UWO to deliver to Prof. Bratuz the Bartk Centenary award, it was to honour her long-standing activit cratrice [qui] a grandement contribu la connaissance de l'oeuvre de Bla Bartk.
This multi-faceted activity - as an interpreter of Bartk's music, scholar and pedagogue - originated at Indiana University during her doctoral studies in the 1960s. As a performer, not only was she at that time among the very few who, as the Washington Post reported, in recitals of enormous musical interestsummoned the courage to program the more daring late compositions of Liszt; she also validated Bartk's view of Liszt as precursor in structural experimentation.
In 1967, Bence Szabolsci, the late, preeminent Hungarian musicologist, praised the novelty and the value of her earliest investigations into the folk material Bartk had used for its structural, as well as expressive, properties. Since then, throughout her academic career in Canada, her study has developed into a vast, as well as original, inquiry, faithful always to a performer's task and point of view, that is, to examine, and contribute to, the reception of Bartk's music. Therefore, she has shared the results of her studies in live illustrated programmes, with a wide range of audiences, from the international academic world to the general public, from major centres (Ottawa, Chicago, Budapest, Vienna) to small communities (Corner Brook, NF). Equally varied has been the range of formats, from conference papers to multi-media presentations that included folk dancers' participation.
In piano teaching, her approach has represented in Gyrgy Sebk's words a unique pedagogical help in the field, one in which the analysis of Bartk's musical material serves the practical consequences in the performance. She has been a frequent guest at major Canadian universities for Bartk seminars, lecture-recitals, workshops, master classes; has offered summer courses or residencies (Banff Centre, University of Victoria); and at the University of Western Ontario she has conducted undergraduate and graduate courses devoted to Bartk studies.
Her path-breaking approach has led to further awards (Italian Government, University of Bologna 1989-90) and participation in international semiotic research. In 1993, at the Centre for the Study of Theory and Criticism, UWO, Dr. Bratuz established an interdisciplinary course that included the study of Bartok's connection with American semiotic research during his exile in the United States.
Professor Bratuz is one of the very few artist-teachers and academicians to explore the semiotics of performance. At the UWO Centre for the Study of Theory and Criticism, she has established a graduate course in Interdisciplinary Research with Music. Dr Bratuz has a strong interest in cross-cultural semantics, and has given numerous papers examining musical topics from cross-disciplinary and cross-linguistic perspectives. (Her mother-tongue is Slovenian, she was educated in Italian, and is equally at home in English and French).